Falling for Florence by Delaney Kennedy
Thank you to our friend Delaney for this fantastic review!
She writes:
" We went wine tasting yesterday in San Gimignano in Tuscany at Tenuta Torciano. The owner Pierluigi Giachi, met us at the bus and shook everyone's hand as we stepped down making his welcoming/larger-than-life personality known from the get-go. He gathered us around and explained that his family has owned and worked the land for at least four generations and that they own property throughout the region producing various goods including wine, cheese, olive and truffle oils, and balsamic. We were led back past a garden full of geese and cats to the tasting room with three long wooden tables. Ten of us sat in a sunken room attached, which was the original frame of the house Pierluigi was born in.
Pierluigi taught us that there is a difference between drinking wine and tasting wine: "wine isn't just something to drink, wine is knowledge, love, poetry and culture." To properly taste the wine, you need the right glass, he explained, so your nose and mouth can fit within the rim so that one can utilize both senses during the tasting.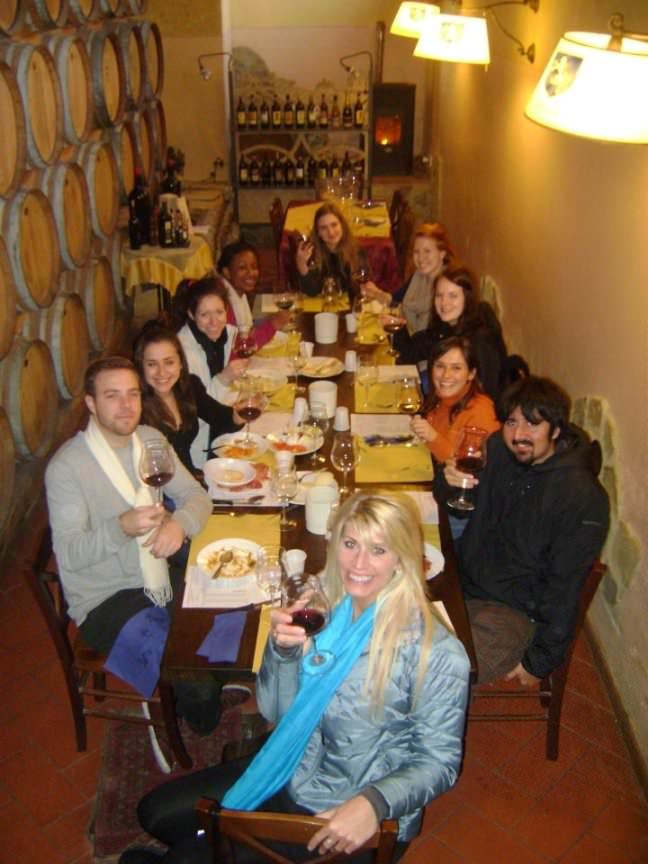 He first taught us how to properly hold the glasses and then instructed us to inhale deeply to get the fragrance of the wine. The scent of the wine can help identify the type, as each has a distinct scent (some smell of almonds, banana, etc.).
We then took our first sips of a white wine and tested it with the sample pairings all hand made by his family: peccorino romano cheese (my roommates and I went on a hunt later to find a similar cheese at our local markets it was so good), salad with balsamic vinegar, bread with olive oil and salami to determine which we thought went best.
After surveying us on which we though went best with the wine, Pierluigi told us that there is no one "right" pairing, it is all a matter of personal taste.
The next two wines were brought out with Ribolitta, a bread soup. This is a dish native to Tuscany and it is phenomenal! New thing to add to my Florence Bucket List: learn to make Ribolitta! We tasted a few more reds with dinner, lasagna (the best I've ever eaten) with truffle oil. We were so relaxed and content after the bus ride back we all took naps when we got home – it was a perfect, charming weekend before our first week of classes abroad!"