In May,  "Fly with Luxury" returns for its Second Edition.
With the first edition, which took place last year, the Fly with Luxury event hosted more than a hundred participants at the Tenuta Torciano winery in San Gimignano, becoming a moment with few precedents in the Tuscan wine market.
 
This year, the second edition begins on May 15th  2017.

 
Promises to be even more interesting and exciting, overflowing the Chianti hillsides, crossing Florence from above and watching the fabulous towers of San Gimignano.
Our goal: to surprise!

Focused on the objective of surprise the client over the Chianti area with a view of the vineyards, the medieval cities such as Florence and San Gimignano from the Sky-high, allowing him to have one of the finest emotional experiences he can have, along with the products of Wine cellar Tenuta Torciano (gastronomy, wines and spirits).
LIVING LIKE A TUSCAN
The luxury of Living Country is synonymous with traditions, centenarian generations, savoir-fair and elegance in drinking and eating healthy and healthy.
 
Recognizing these fundamental values, the Giachi Family, owner of farms in Tuscany, will once again offer this strong, more qualitative experience of visitor products and services, offering a promotional price to share this:
The 3 different tours are inclusive of:
 
– Tour: 10, 30 or 50 minute helicopter tours, around San Gimignano, Tenuta Torciano, the surrounding area, the Chianti area and Florence.
 
– The Passengers will be connected with headphones with the pilot to be able to communicate and receive information.
 
– Lunch with wine tasting:
Appetizers: Tuscan Cheese and Cheese, Bruschetta and Snacks
First Plates: Lasagna with Tartufo or Ribollita Tuscany
Second course: Roasted Meat with Baked Potatoes
Dessert: Cantuccini with Dessert and Ice Cream
15 Tuscan products to taste, our current vintages and old reserves:
–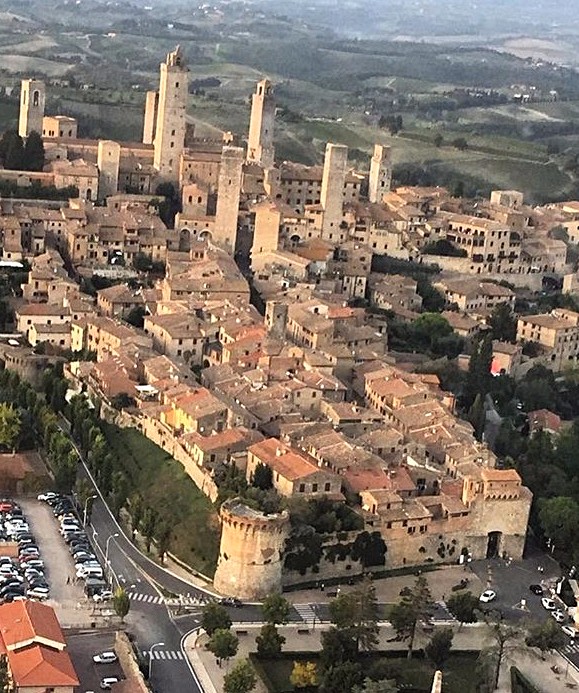 Brunello di Montalcino D.O.C.G.
– Rosso di Montalcino D.O.C.
– Cabernet Bartolomeo Riserva I.G.T.
– Merlot Baldassarre Riserva I.G.T.
– Syrah Cavaliere Riserva I.G.T.
– Vernaccia di San Gimignano D.O.C.G.
– Chianti D.O.C.G.
– Chianti Classico D.O.C.G.
– Chianti Classico Riserva D.O.C.G.
– Red of Montepulciano D.O.C.
– VinBeato – Dessert Wine
– Extra virgin olive oil
– Truffle oil
– Pepper oil
– Balsamic Vinegar Selected
Details
Car Parking: Free

Notes: In case of allergies or intolerances, please contact the staff at the time of booking.

Wi-Fi: Free

For special requests or personalized quotes, please contact us directly at +39 335 639 0782