Tomorrow it's our Day of filming, which is always the most fun because I invite my pals and family over for a different Tenuta Torcinao winery event in US.
We forget the cameras are rolling, catch up and laught a lot.
Tenuta Torciano winery from Tuscany will be in live streaming from the event on Bridge Street on News Channel 9 in Syracuse, New York tomorrow, 5 April 2016, on Bridge Street, News Channel 9 at 10:00.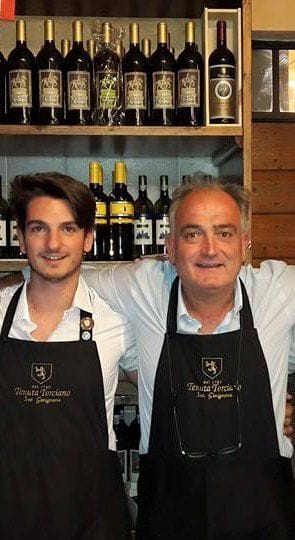 I'm very proud to see my son Emanuele on television and presenting Tenuta Torciano Winery.
He will talk about our work, our region, our vineyards and our wines.
I am sure it will be a great emotion for me seeing my son in tv talking about everything that I love.
He will talk about Italy, Tuscany, the living in Tuscany, our food and wine, our Vernaccia di San Gimignano, our Chianti Classico, Brunello di Montalcino and Super Tuscans!
He will explain our Winetasting School, our classes, the correct way to drink wine, and how to pair food and wine!
For this reason, I am happy to share with you this special moment for me and my family. Follow on Channel 9 Syracuse Emanuele of Torciano Winery, or see it on line on their official website.
Do not miss it!  Or if you miss it, you can see it later at 2 pm on BridgeStreet Web page!
Thank you.
Pierluigi Giachi
Owner Tenuta Torciano Winery