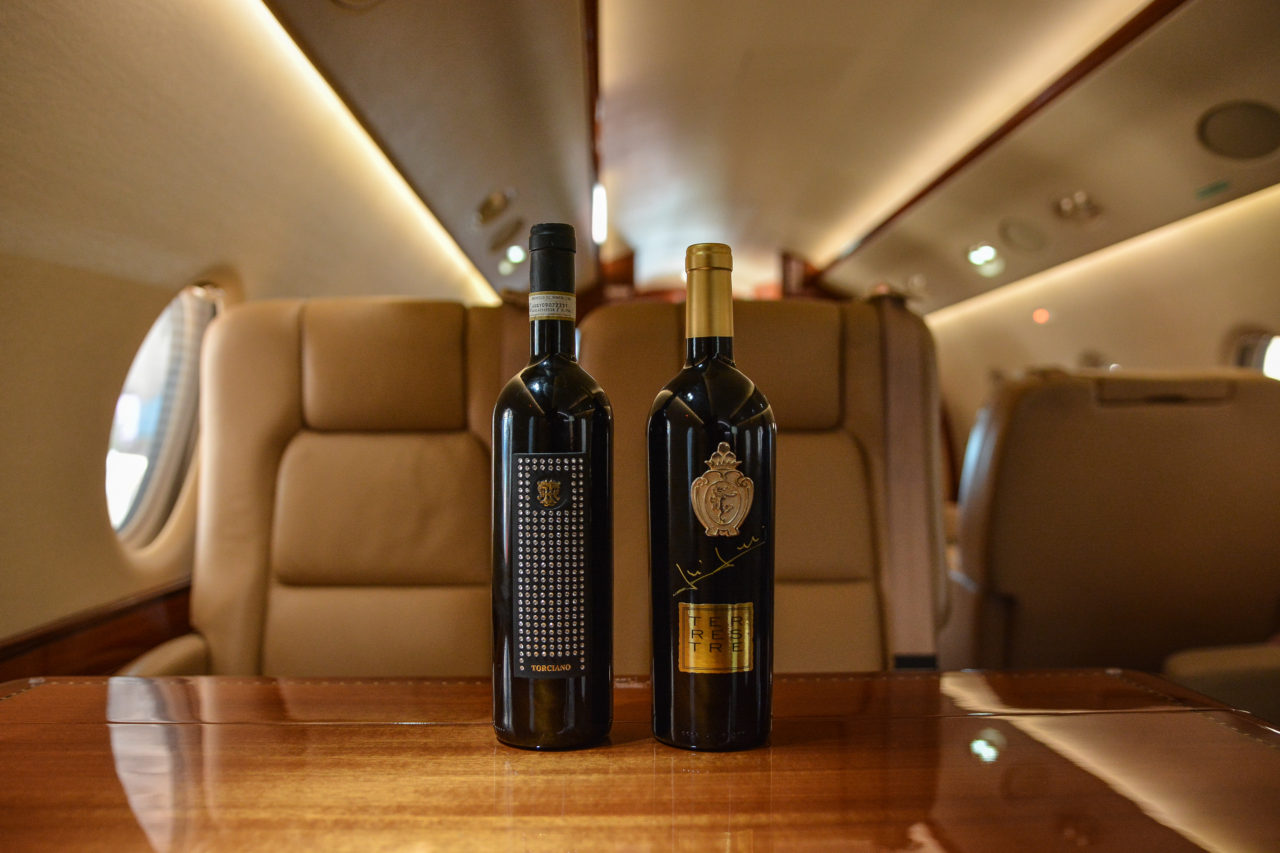 Once again Tenuta Torciano has had the honor of being one of the sponsors of Flight To Luxury, an event that every year brings together the most charitable citizens of Colorado to enjoy food, drinks, music, fashion, private aircraft and of course the evening dedicated to the charity auction for "Pivot", the no-profit association founded by John Elway, Larry Mueller, and George Solich to harness the power of doers and dollars, investing in outcomes to help Colorado's NextGen succeed. Pivot envisions a future where Colorado youth are empowered to thrive in the multi-dimensional aspects of their life, bridging the gaps to provide full access to quality education, mental wellness, nutrition, and career readiness.
The event, organized as usual by Cuvèe, took place last Friday, September 14th in Denver's Centennial Airport, a beautiful location dedicated to Jets and private aircrafts. In one of the two Hangars the welcome drink took place with the usual red carpet, champagne, photo booth, musical entertainment, luxury cars, private jets and tastings of dishes from the best restaurants in Denver.
Tenuta Torciano, sponsor of the evening, held its stand inside the event serving guests some of the best wines of the company, chosen especially for the occasion.
The guests of Flight To Luxury (Colorado's culture makers, movers-and-shakers, and philanthropists for a stunning collaboration to benefit PIVOT) had the pleasure to taste the most important luxury wines of the estate including special leather reserves, the Terrestre gold, the Brunello Gioiello 2011 reserve and all the Super Tuscans, before to take part in the most important event of the evening: the charity auction to benefit the PIVOT association.
A very special night, with special guests such as Peyton Manning, Emmanuel Sanders and many others, for an auction full of wonderful and exclusive prizes donated by Cuvèe and all the other sponsors.
Tenuta Torciano has decided to offer an exclusive dinner in the Chigi Tower of San Gimignano and an Horseback excursion within a fantastic 5-day package in Tuscany in one of the extra-luxury villas owned by Cuvèe. And the auction was really a great success given the sale of even two packages.
The evening, which also saw two fashion shows between one auction and another, ended with the usual balls throwing to the audience by American football legend Peyton Manning. Obviously, each reception meant donation to the PIVOT association.
It was truly a great honor for us to participate in such an important event, with our wines and our activities in Tuscany, to help the neediest people and the PIVOT association of Colorado. For once it was not the Tenuta Torciano Wine School but only a charity action. And this was amazing!
See you next year!
Follow all the events scheduled by our Wine School in America on: pierluigiontour.com or on our website: torciano.com.
EVENT'S GALLERY