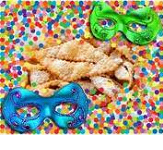 Celebrating Fat Thursday (Giovedì Grasso)
Thursday, March 3, 2011
Today, throughout Italy, people are celebrating the Fat Thursday Day (Giovedì Grasso). A celebration with buffets, dinners, wines and great dancing with many masked balls. The two main ingredients are the pleasures of food together with excellent wine and lots of fun !!!!!!!
In Venice we celebrate Fat Thursday in remembrance of the supremacy of the Doge Michiel on Ulrich of Aquileia. Soon after 1160. The loser were obliged to send annually to the Doge many pigs to commemorate the victory against the patriarch Ulrich.
Both the people and the noble used to celebrate by eating pork, and having fun and dancing, performances and fireworks. During this celebration, there was also the now well known, Flight of the Angel or the Dove (volo dell'angelo e della colombina), which, as now, a person ran down a wire from the Campanile of San Marco across the square.
Celebrating Fat Thursday (Giovedì Grasso)
Thursday, March 3, 2011

On March 3, the day on Fat Thursday, our cook mother Graziella will wait you for an evening of good food and good wine tasting signed Tenuta Torciano Winery

menu
Platter of Tuscan Salami and cheeses with toasted mixed welcome
Rosso di Montalcino 2007 vintage
Chard roulade stuffed with ricotta
on tomato paste
Chianti Classico Doge 2008 Vintage
Tagliatelle with meat sauce
Musicale Super Tuscan di Merlot, Cabernet Sauvignon e Syrah 2008 Vintage
Pork fillet in a crust of pistachios
transformed with tricolor
Baldassarre (Cabernet, Merlot, Sangiovese) 2006 Vintage
"Cenci" and "pancakes"
cup with strawberries and mascarpone
Vin Vinsanto Dessert Wine