Cups shrimp with orange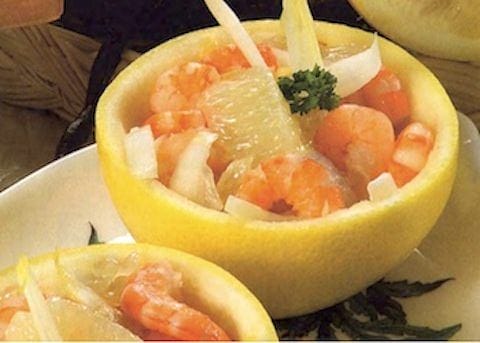 Many thanks to our friend Emanuela for sending us this special recipe!
Send your recipe to cinzia@tenutegiachi.com
—
Ingredients:
fresh shrimp;
4 oranges , preferably organic and non- treated;
3 egg yolks;
2 hearts of lettuce;
1 1/ 2 cup extra virgin olive oil;
Arugula salad;
Salt to taste.

Wash the prawns and boil for about 10 minutes, then shell them and let them cool.
Wash and dry the oranges and then trim them in half horizontally 3.
The pulp removed ( keep aside ) of half oranges emptying completely.
Wash and dry the salad leaves and the most tender of a bunch of rocket.
With the egg yolks, oil and salt prepared mayonnaise.
Removed with a vegetable peeler peel ( yellow part only ) of the fourth orange, cook for a few minutes in boiling water then rinse with cold water and chop coarsely.
Add the mayonnaise , chopped zest and the orange juice , stirring well.
Place oranges in half a few leaves of lettuce and arugula , shrimp and a few pieces of peeled orange.
Garnish with sauce and ready to serve at the table!
Food pairing: White Giachi wine