Gift the mother in your life the ultimate cookbook ABOUT SAN GIMIGNANO !
Follow our gorgeous @VittoriaCaterinaGiachi as she prepares a simple Mother's Day Cake recipe in honor of Mother Day.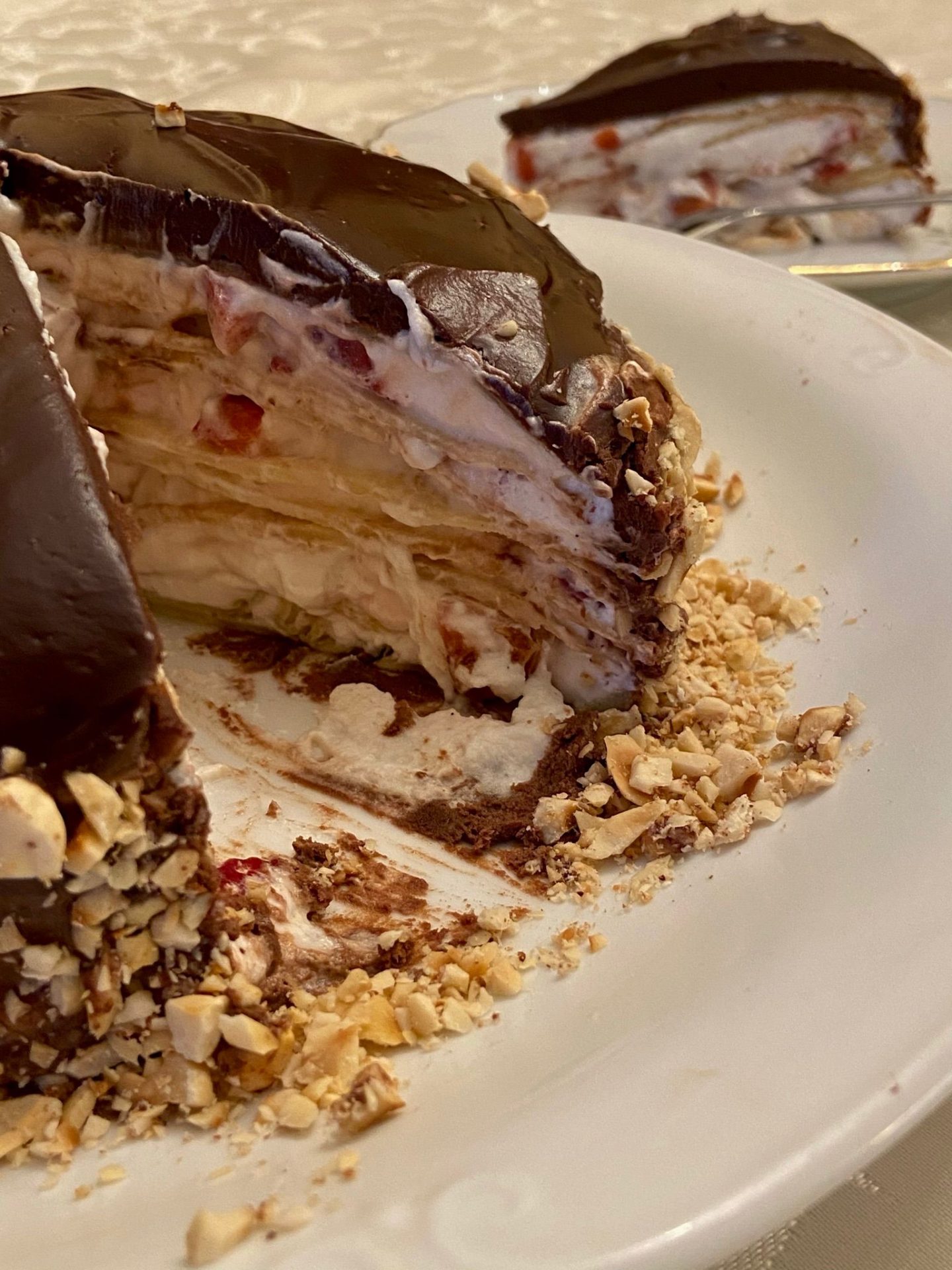 The crêpes cake: wonderfully unique. With its innumerable layers it rises imposingly towards the sky; with its creaminess it conquers the palate and the heart, even of the most skeptical people; with its goodness and its enveloping chocolate flavor it cradles the soul and appeases that tireless search for peace that makes you lose your mind. An intriguing temptation that I love to show off at every important occasion, and what better time to bring a sweet surprise to the most important person in our lives, mom. For such a special party, this cake will be the icing on the cake to cap off a perfect family banquet.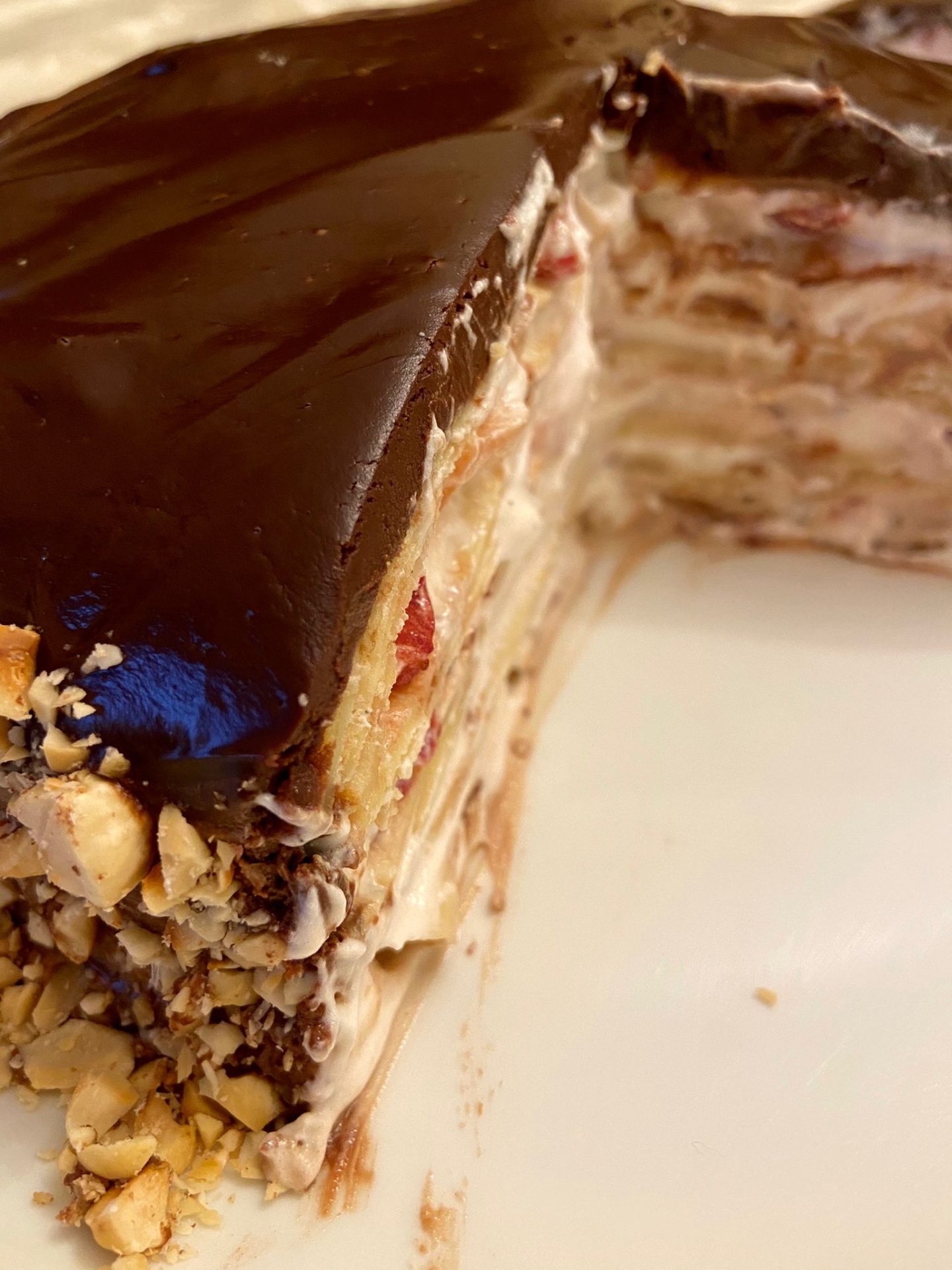 – SERVINGS: 10 people
– PREPARATION TIME: 1 hour and 30 min
– COOKING TIME: 20 min
– DIFFICULTY: medium
INGREDIENTS FOR THE CRÊPES:
– 3 eggs
– 500 ml (2 cups) of milk
– 250 gr (1 cup) of flour
– Butter
INGREDIENTS FOR THE FILLING:
– 500 ml (2 cups) of cold fresh cream for dessert
– 120 gr (4.5 oz) of icing sugar
– 1/2 vanilla bean
– 300 gr (≈11 oz) of strawberries
INGREDIENTS FOR THE CHOCOLATE GANACHE:
– 200 gr (7 oz) of dark chocolate
– 200 ml (7 oz) of cold fresh cream for dessert
– Chopped hazelnuts
First of all, starting by preparing the mixture for the crêpes:
In a bowl, beat 3 eggs with a whisk and pour the milk slowly, then add the sifted flour in 2 times. Put it in the fridge and wait 30 minutes. Then butter a non-stick pan and make about 12 not too big crepes.
Later prepare the filling to make your cake very creamy:
Whip the fresh cream with the icing sugar and the seeds of 1/2 vanilla bean. Then add also some strawberries cut into small pieces, mixing from bottom to top, so as to avoid to disassemble the cream.
Now assemble the cake:
In a hinged pan lay a crepe on the bottom, sprinkle with some cream and then cover with another crepe. Keep doing this until you have finished all the layers. Finish with a crepe. Place the mountain of crepes in the fridge for about 30 minutes.
In the meantime prepare the chocolate ganache:
Cut the chocolate into small pieces, put it in a bowl and heat the cream in a saucepan, but do not boil it. Later, stirring, pour the cream into the chocolate and mix with a whisk so that the chocolate melts definitively.
In the end decorate the cake with the ganache, some chopped hazelnuts and, if you want, with some strawberries.
Eventually TASTE IT AND TOUCH THE PARADISE!