Directly from the Tenuta Torciano Cookbook we want to share an idea for a truly special Easter party, with fantastic red wines to pair.
Everyone knows that Italy is famous all over the world for its exceptional cuisine. For this Easter we want to offer you a recipe that is best suited to this tradition: Tuscan Easter Lamb. Like Christmas with turkey, Easter has long been associated with lamb, but its religious ties are very likely to date back to Christianity. For example, the lamb has a central meaning during the Passover, although some people believe that the place of the lamb in this Jewish custom is purely sacrificial, rather than on the table.
Below is the recipe in brief:

TUSCAN EASTER LAMB
Difficulty: Easy
Preparation: 60 minutes
People: 4
Ingredients:
Lamb: 800 Grams (carrè)
Shallot: 1 Unit
Garlic: 1 Unit
Extra-virgin Tuscan Olive Oil IGP: 2 Spoons
Butter: 30 Grams
Rosemary: 1 Unit (small branch)
Red Wine: 1 Glass
Salt: q.b.
Pepper: q.b.
Procedure:
Brown the meat in a couple of tablespoons of oil, turning it often to color it evenly. Season with salt and pepper, then transfer it to a baking dish and bake it for half an hour at 180 °. Pour half glass of water into the pan, put it on the heat and collect the bottom of the meat. Meanwhile, melt the butter in a small saucepan and add the chopped shallots and garlic, rosemary, salt and pepper. Brown 2-3 minutes and blend with the wine. Add the lamb water, bring to a boil and reduce to medium heat. Strain the sauce through a sieve, put it back in the saucepan and add a teaspoon of cornstarch if it is too liquid. Salt and pepper. Remove the lamb from the oven and let it rest before slicing it. Coat with the sauce and serve.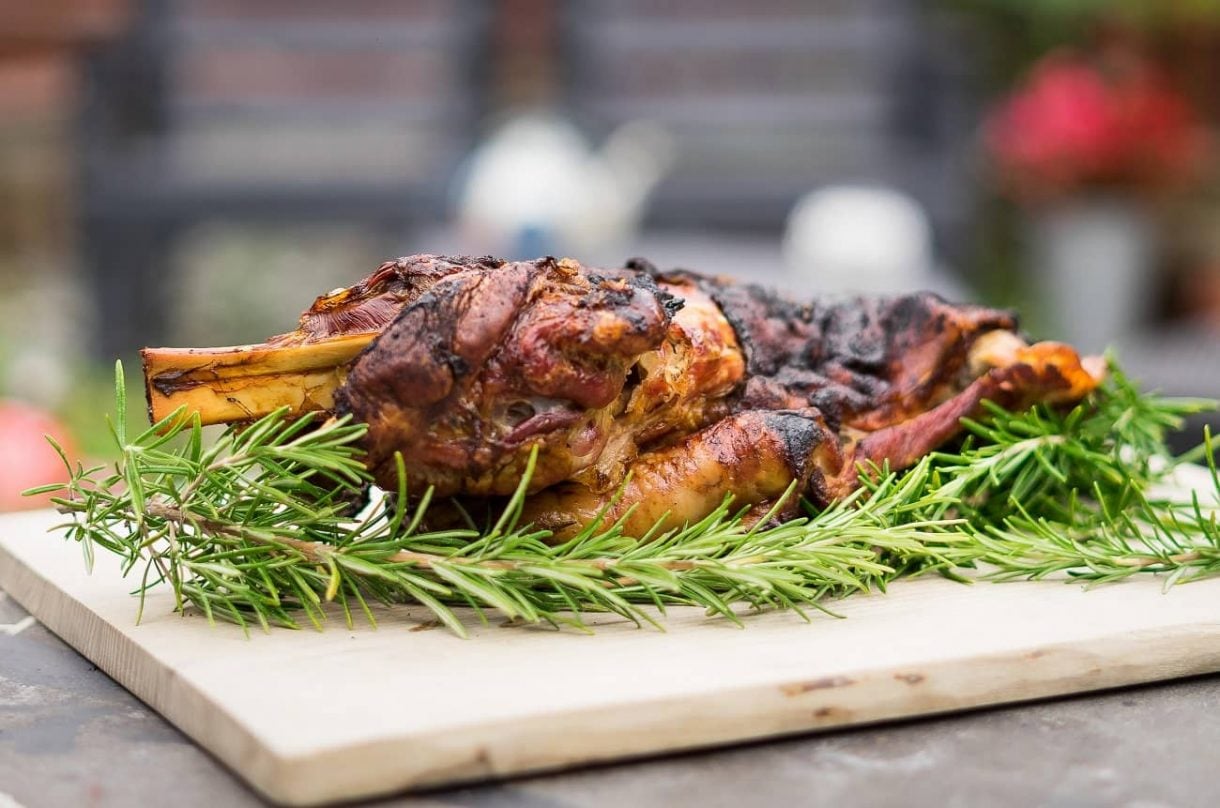 RECOMMENDED WINES FOR THE PASQUAL LAMB
Note: the following wines are a selection of exceptional products, recommended by us for the perfect combination with this dish. More options can be found on our wine list, online shopping section: www.torciano.com
Many red wines from classic vines are a wonderful natural match with lamb. But it is important to pay close attention to the cut of meat you have acquired, as well as how you cook it and serve it.
CHIANTI CLASSICO RISERVA, GODENZIO 2016 | € 39
To obtain the "Riserva" quality of Chianti Classico, more years of aging and a higher alcohol content of 12.5% ​​are required. The grape variety chosen is that of Sangiovese Grosso. The vineyards are cultivated on hilly land with polychrome and schists lands at an altitude of 400m s.l.m. Intense ruby ​​red tending to garnet with a complete, elegant and penetrating scent. With a full and smooth taste, this wine accompanies noble game and aged cheeses. It is top quality and the structure makes it excellent for tasty meat-based first courses or for roast game. Also excellent for meat with a stronger and more particular taste such as lamb, for vegetable soufflé or mature cheeses and spicy flavors.
SUPERTUSCAN IGT, BALDASSARRE 2015 | € 42
This wine is a combination of Sangiovese grosso, Cabernet and Merlot. This combination, originated from clay soils and a particular climate, presents the right ingredients to create a superior red nectar. With an intense ruby ​​color tending to garnet with aging, it presents an elegant and complete bouquet. Hints of wood can be perceived among the typical herbaceous notes. Its taste is dry, full and smooth. The first quality and structure of this wine make it excellent for first courses and risottos with wild boar and hare sauces, or tasty meat-based dishes such as game roasts, spicy vegetable soufflé and seasoned cheeses.
BRUNELLO DI MONTALCINO 2014 | € 63
He has a strong personality with a dry, full, soft and well-balanced taste. Excellent in combination with meat-based dishes such as Florentine steak and grilled fillets. It is also exceptionally good with spicy cheeses and game. The 2014 harvest was presented with a hot summer but throughout the year the temperatures remained regular, with important rains in May and June. Also in September, in Tuscany, at the beginning of the month there were thunderstorms, creating discomfort during the grape harvesting phase but contributing to making this wine great.