Eggplant rolls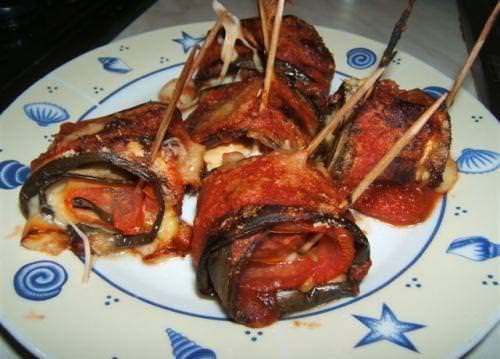 Many thanks to our friend Monica for sending us this great recipe!
Send your recipe to cinzia@tenutegiachi.com
—
Ingredients:
Eggplant: 2 large;
Ham: 8 slices thick cut;
Provolone (Italian cheese): 8 slices;
Tomato sauce: 1/2 jar;
Grated Parmesan cheese: 50 g;
Fresh basil: 8 leaves;
Extra virgin olive oil: a spoon;
Salt: to taste.
First, wash and cut the eggplant cut into 8 long  slices and long
grilling them on a very hot grill. Even if you are not properly cooked it does not matter, because then it will be put in the oven.
On each slice of grilled eggplant place a slice of ham, provolone cheese and basil leaves. Roll up and secure the roll with a toothpick.
Put all the rolls in a baking pan in which you have paid the tomato. Top with Parmesan cheese and baked at 180 ° C for about 20 minutes.
Here is the prepared eggplant rolls as a side dish that is great as an appetizer, served hot.
Food pairing: Chianti Classic