Dear friends and wine lovers,
most of you came to visit me here in San Gimignano, in my Winery and had tasted the excellent wine that I produce here for 13 generations. These lands are famous for many types of wine, for example Brunello di Montalcino, Vernaccia di San Gimignano and, of course, Chianti.
Italy, especially Tuscany, is a land where grapes grows good and produce fine wine, but we are not the only that produce wine.
So, during my Wine Class tour in America, I visited my great friend William Jarvis of Jarvis Estate, and had the possibility to see a great Estate with amazing wines. We had dinner together and tasted some great wines.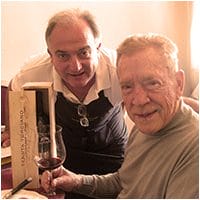 For me it's a great experience to visit this famous and great wine selection. Jarvis Estate is in Napa, California. These lands are also famous for the wine they produce, so once I was here, I also visited a other great and famous Estate:  Mondavi Winery.
After this great Winery of California, I decided to visit on other important winery: Viansa.
It was a pleasure to talk with colleagues who do the same work, try different wines and taste my Super Tuscan together with them.
I returned home, to my Winery, even more in love with my job, and full of energy and new ideas for this new year!

— — —