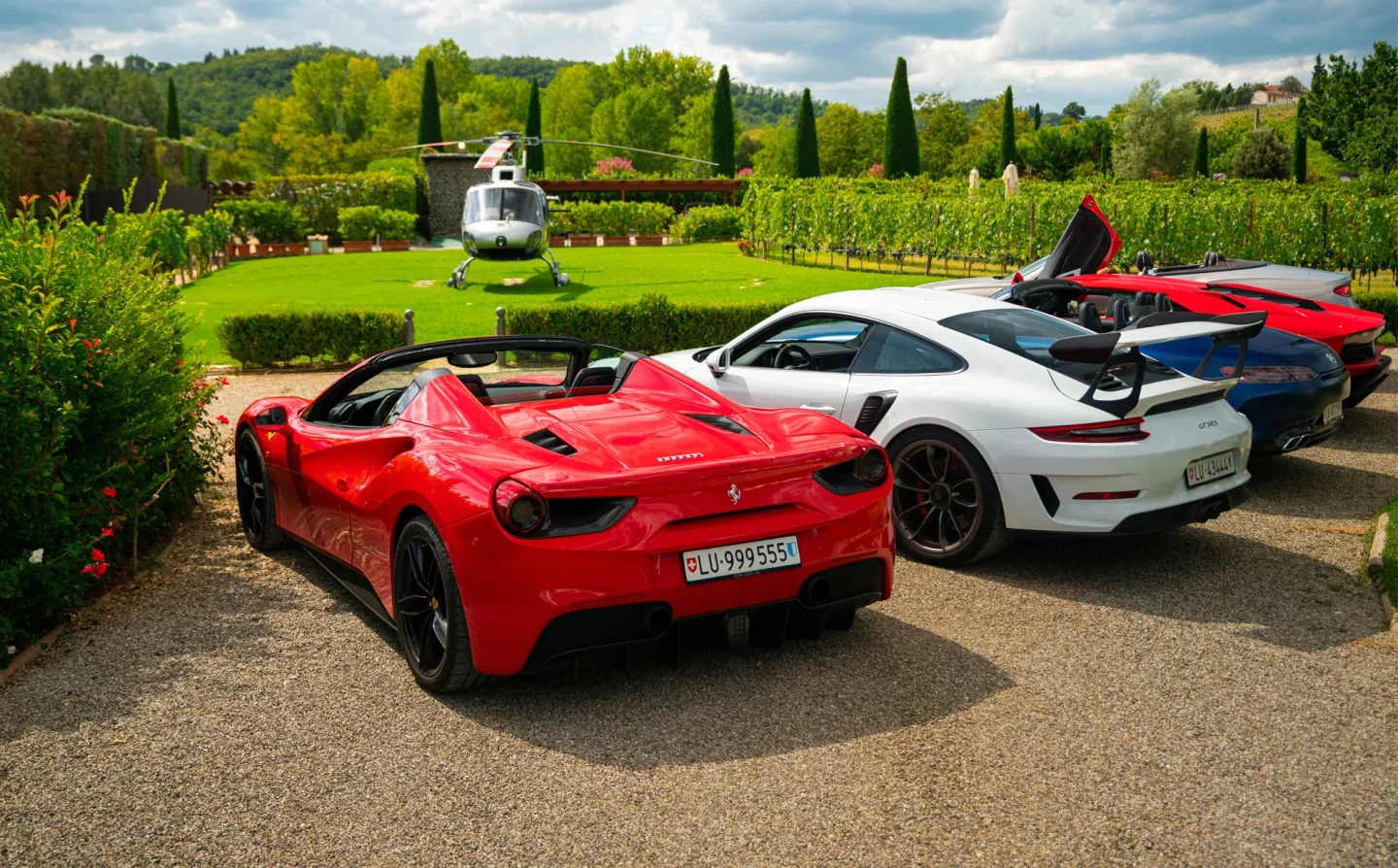 You may find Financial Time in London but we have @abercrombiekent in Tenuta Torciano winery🍷
"
As part of the Special Occasion Collection by Abercrombie & Kent, why not mark your milestone birthday behind the wheel of a supercar for a grand tour of Tuscany by Financial Time
Life doesn't' get much better than cruising the leafy lanes of Tuscany at the wheel of an Aston Martin DB11. There has never been a better time for a midlife crisis – whatever your age – especially when you get the chance to test drive a fleet of newly released supercars on the ultimate Italian road trip.
Celebrate a milestone birthday by tapping into your inner James Bond. There is nothing 'shaken or stirred' about the new model Aston Martin heralded as a standard bearer for a new generation of cars. All you will hear is that distinctive note of the exhaust as you smoothly accelerate out of the renaissance city of Florence for the 800-kilometre grand tour.
Labelled as the most important Aston in the marque's history, the DB11 is a supremely sophisticated blend of old-school charm and modern technology. It is one of the fastest and most desirable long-distance cruisers money can buy – exactly what you need when you are winding through the sun-dappled lanes of Sienna.
Invite friends and family to share the joy of the open road as you embark on this trip-of-lifetime exclusive to A&K. While you may opt for the classic Aston Martin, the choice of supercars on offer is tantalising:
The perfect grand tourer, sporting a unique twin-turbo W12 and a truly luxurious interior.
Successor to the adored 458, the model will propel you from 0 – 100 in just three seconds
Lighter, faster, and stiffer than its predecessor, the Italian-made Portofino is regarded as one of the most attractive Ferraris of all time
Lamborghini Huracan Performante
Fantastic combination of being fast, loud, and sharp with and ingenious 4WD system
While there are many fast cars out there, few have the performance capabilities that require drivers to up their game. Are you ready for the challenge?
Agile yet comfortable grand tourer with a beautiful V8 soundtrack to match
The legendary 911 with its precision instrument remains a timeless inclusion on the tours
Once you have made the difficult decision of which car to drive, your grand tour of Tuscany can begin. Not only will you feel like Lewis Hamilton at the wheel of your supercar, but you will spend the week living like an aristocratic Florentine staying en route in castles and stately homes. Cultural pit-stops along the way will also give you time indulge in the celebrated local cuisine.
Before the flag goes up on your journey, spend time in Florence where you will enjoy inside access to the lesser-known sights and sounds of this historic city. As part of an 'Artisans of Florence' experience explore the city's famed indoor food market and hidden ateliers. Indulge in local delicacies with friends from a hearty bowl of ribollita to a plate of bistecca Fiorentina washed down with a glass of local Chianti.