Icarus Private Jet launches luxury wine collaboration with Torciano Winery.
FONT: icarusjet.com
Many thanks to Icarus Jet for this amazing article about us and our wine event in Foxworth, Dallas (TX).
Luxury private jet and Luxury Wine out of Tuscany, Italy
It is a sweetheart of a deal. A sundrenched winery in Tuscany, A 700-year-old village of San Gimignano. Cobblestones, Cathedrals, Castles and rolling hills with the golden hue from the crops as one drive from Florence to San Gimignano. Torciano is a 300-year-old Winery founded by the Giachi Family. Bartelomeo Giachi had left Florence in 1720 and settled in the nutrients fertile soils of San Gimignano. Today, the Giachi family continues the tradition of Winemaking. To say that the Giachis have taken their trade to another level is unfair. There are no levels to one's passion that's a family tradition from Bartolomeo to Pierluigi Giachi to Emanuele Giachi. The culture to passionately produce Wine from the soil to the bottle is an art form, an art form that needs to be experienced at the Torciano winery itself. Let's anoint this new friendship and launch of a brand partnership.
Private Aircraft-Luxury Cars and a handsome Wine Sommelier from Tuscany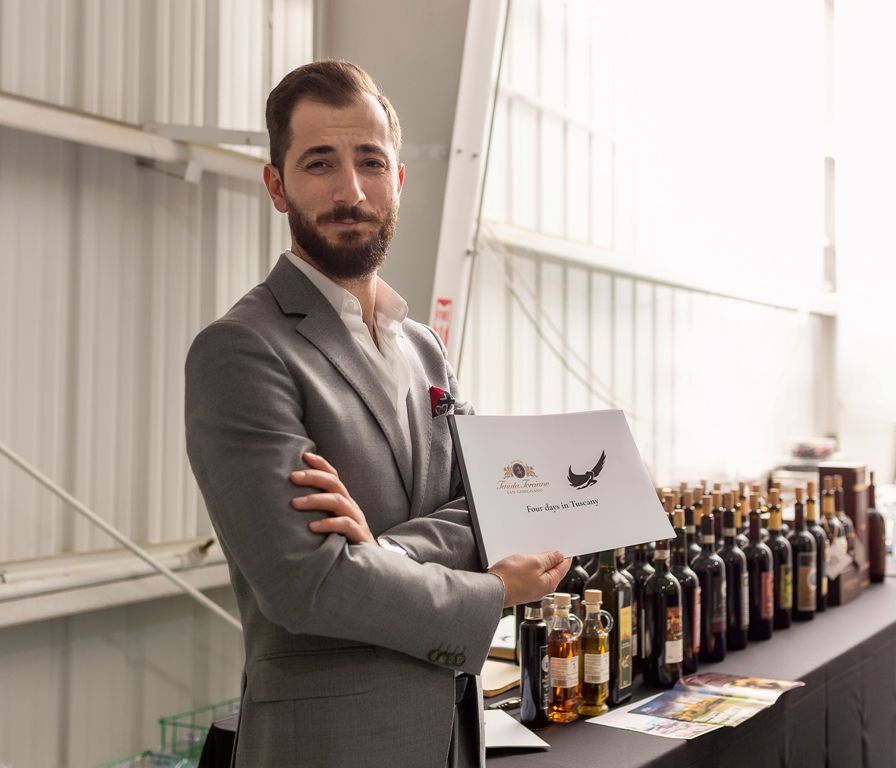 When Lillo first walked into the offices of Icarus Jet at Dallas, Texas. None of us had expected to be educated this thoroughly and lovingly with a great passion for how a Winery produces its best grapes, the season, soil, and the process to bottle every batch. It was a pleasant two-hour meeting which has now resulted in a lifetime friendship between the Singh family and the Giachis from Tuscany. We decided to host a small get together at the house of Kelly and George Tadros, who is our regular Jet charter client and also a close friend.
We decided to host a wine tasting event at a Private Hangar in Fort Worth Mecham field. With the help of Ms. Ann Davidson, who is a renowned humanitarian and possibly the most charitable person that I have ever met. We Invited some of the most influential people of the Dallas-Fort Worth Metroplex. The wine event was held on the 27th of April at a private Hangar, and a display of three private jets and some of the most beautiful luxury cars was enabled. Alex Rivera played his smooth Jazz with the Rivera band and the evening couldn't get any better.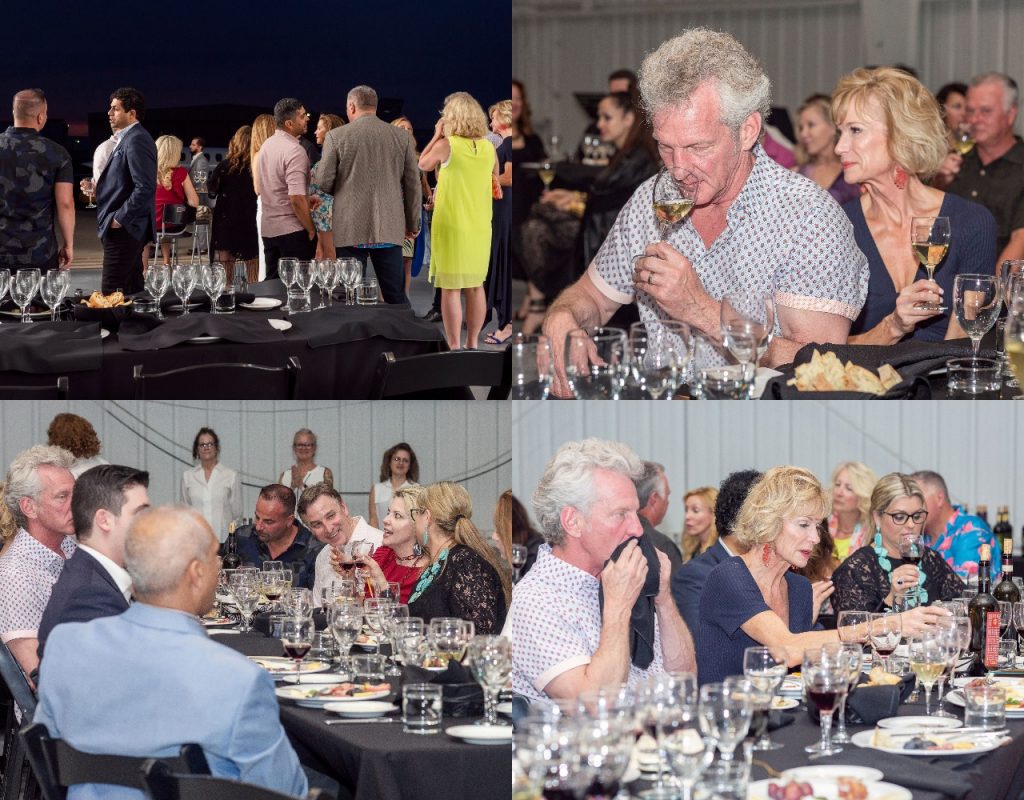 Our Newest Brand Partnership – Park Place Features Its Luxury Cars
The evening of the Wine tasting event Icarus Jet charter not only strengthened its bond with Torciano Winery but also with Park Place McLaren Dallas. Mr. Hesham Elgaghil (chief strategy officer, Park Place) and Mr. Simone Crossley (brand manager, Park place) honored our luxury wine tasting event with their presence. Mr. Crossley drove in a brand new Mc Laren 720 offered for sale by Park Place Dallas. The Mc Laren 720 stole the show, and more people enquired about the McLaren than any of the Private Jets at the event.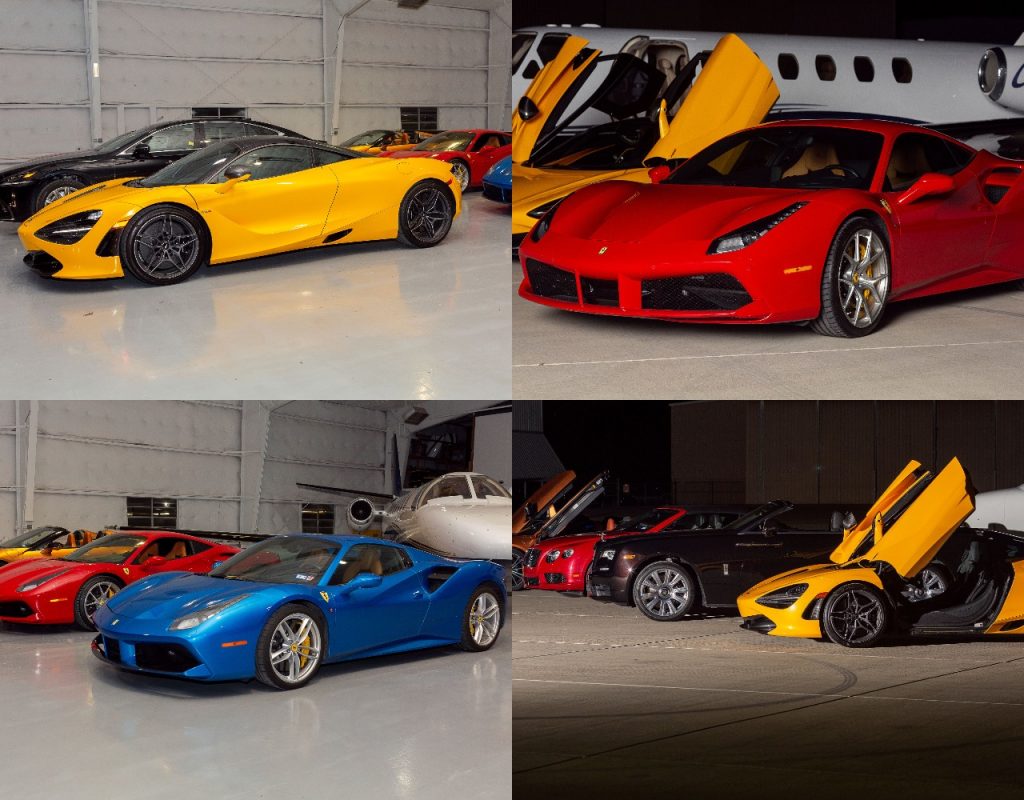 Icarus Jet charter has had a long-lasting relationship with Park Place Dallas. We have bought and leased all our Porsche vehicles from Park place. There is no comparison to the service and prices they provide. Loyalty to a brand is always understood as we like Porsche, but the dealership consistently earns a commitment to the dealership. In the last seven years of multiple Porsche leased and bought/sold from Park Place, they have gone above and beyond from just buying and selling. We have always been made to feel like a family. From the price, delivery to maintenance Park Place has been a 5-star dealership.
The wine tasting event was a significant success, and we have decided to hold the wine tasting event every year. At Icarus Jet, we would like to thank everyone that showed up and made our event a huge success beyond our expectations.