Tuscan landscapes, cities, medieval hill-top towns, bring unique blast for all our senses. Visual impact and authenticity of San Gimignano, as a crown of all Tuscan medieval and early renaissance towns leave us in deep thoughts, emotionally fulfilled, like nothing can impress us more or surprise us in any way. Except Tenuta Torciano, winery with a character, where everything comes from the heart.
After your guaranteed fascination with San Gimignano, you just need to drive for 15 minutes following signs ULIGNANO to reach Tenuta Torciano – a pure wine nest between Florence and Siena. From the outside, it looks like modest property embraced by endless vineyards of Vernaccia white grapes, welcoming you in a typical Tuscan style.
San Gimignano and Tuscany landscape
Warm and honest smile from your hosts with famous "Benvenuti (welcome) in Tenuta Torciano" will make you feel truly accepted by a local Giachi Family.
They certainly represent the highest possible and genuine devotion to every single visitor and every single bottle of wine as well. How not to be proud of fifteen family generations, not only of winemakers, but profound Tuscan countryside people, blessed by the soil that gave them everything. For the Giachi Family, real quality of life is measured by the moments of fulfillment with their family members, friends and a glass of wine.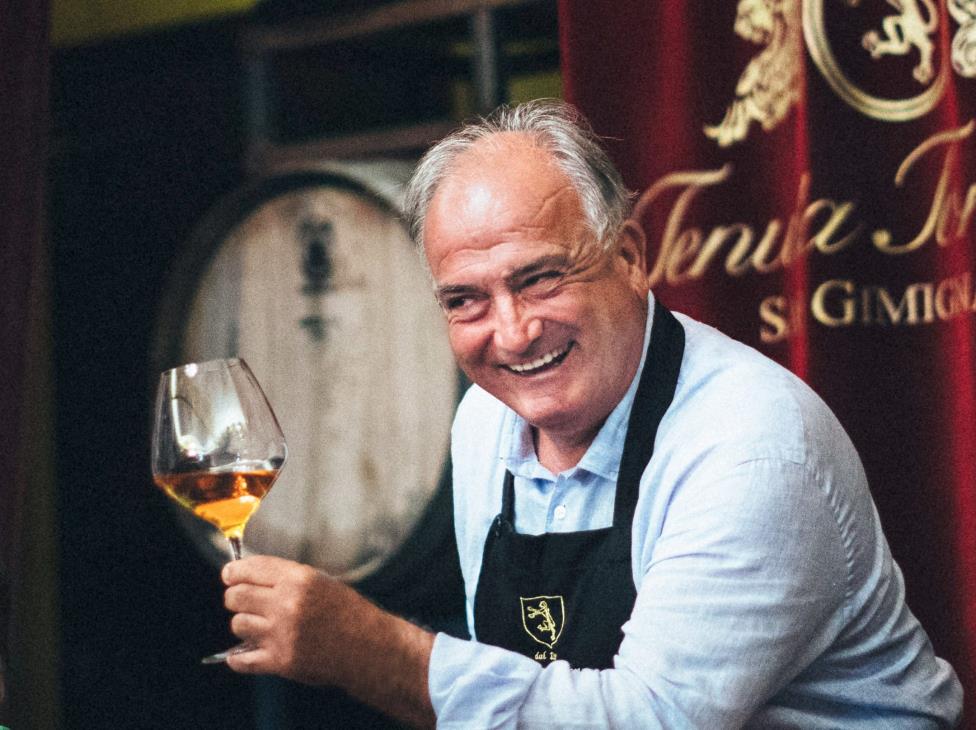 Pierluigi Giachi – The owner of Tenuta Torciano https://www.torciano.com/
TENUTA TORCIANO PAST AND PRESENT
Everything started from good old Bartolomeo Giachi, some three hundred years ago, after whom unique wine passion continued to live through future generations. They clearly accepted the challenge, developing winemaking business in their own way.
Tenuta Torciano added more magic and almost an artistic touch with the current owner Mr.Pierluigi Giachi. Whenever we talk about wine tasting groups, his calm voice, patience and devotion to what he loves the most is so visible. Sometimes we chat about their vast wine lands around San Gimignano, fancy wine property next to Montalcino, Chianti Hills or Montepulciano. Every time when I step in Tenuta Torciano wine tasting room, I give a hug to my Giachi Family friends, from Mr.Pierluigi to all of his children and cousins. That moment always reminds me how wellbeing is actually enjoyment in simplicity of life, with hearts full of greatest feelings and family love.
Vineyards of Tuscany https://www.torciano.com/
LET THE MAGIC OF WINE TASTING BEGIN
Tables are ready with tempting wild boar salami, pecorino cheese, homemade "just 30 years old" balsamic vinegar and always delicious truffle olive oil. Flavors of Tuscany are all around and noble wines are slowly coming through. You simply need to experience presentation done by my legendary friend, Giachi Family member – Lilo. His unique blend of English accent, wine expertise, humor and his opened heart to everyone became a symbol of Torciano winery.
Perfect starters plate ready for wine tasting https://www.torciano.com/
Vernaccia di San Gimignano white wine will refresh you with fruity flavor from gentle hills around the winery. Then comes Chianti red wine followed by Chianti Classico and you realize how you are truly dealing with divine drink. Suddenly, just Lilo's voice can be heard. Why? Special moment has finally come for a noble and perfect, Brunello di Montalcino red wine. Its color is undoubtedly "the blood line" of Tuscany, its flavour is a masterpiece of 100% Sangiovese grapes and the rest is just history of the most famous wine in Italy. More salami is on the plate, bread sprinkled with spicy olive oil provided perfect base for super Tuscan reds like Cavaliere and Bartolomeo.
Amazing full bodied wines, plenty of humor and cheerful faces around the table will maybe help you to decide which wine to buy and ship where you want. Is it going to be a case of Brunello for 50eur per bottle instead of paying 100eur in the restaurant, or a bottle of Bartolomeo, wine impossible to find anywhere, but here in Tenuta Torciano winery. Many of their wines won world's most established wine titles, but your hosts will care just about your hedonistic moment. For the end, charming, sweet Vin Santo wine will just round up Tuscan traditional wine list. With typical amber color, this wine will tell you the story how cantucini (typical Tuscan almond biscuits), dipped in wine and eaten can be a pure message of love.
Noble style Brunello di Montalcino red wine
Photos by https://www.torciano.com/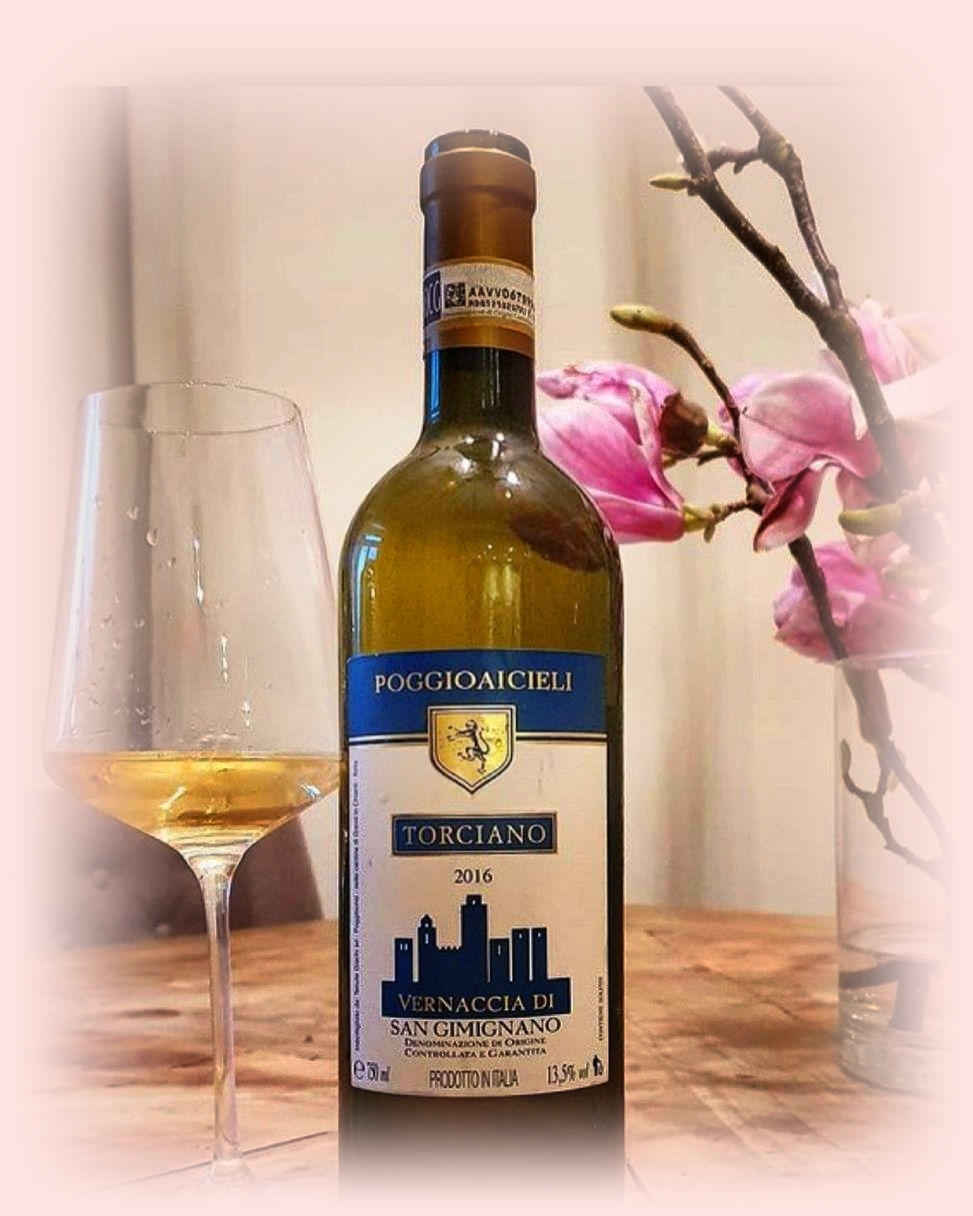 Vernaccia di San Gimignano white wine
It is such a demanding task to describe the atmosphere after experiencing all divine flavors of Tuscany. Again, food and wine vibe in Tenuta Torciano has shown its unmatched character, which I respect, like and truly enjoy.
After every visit, spirit of this place and energy of Giachi Family stays with me and my group of explorers of Tuscany. Music and singing on the bus became a must after experiencing a place where simplicity, passion and opened hearth goes hand in hand with centuries old tradition, quality and family love.
Wine magic slowly captured me. I just imagined walking barefoot through Tuscan vineyards thinking: "Isn't this life so beautiful?"
Dinner Tenuta Torciano with Bartolomeo red wine https://www.torciano.com/