Once upon a time there were two guys, Serena and Emanuele, who met for the first time in a bar in San Vincenzo, and right there, on the two opposite sides of the counter, their story was born. One word led to another, as did their looks, and in no time their lives were intertwined forever. After a few years, on Serena's birthday, with the castle of Velona and the beautiful countryside of Montalcino as a backdrop, Emanuele kneels and gives her an incredible surprise, a romantic marriage proposal.
Two years pass; and just like in fairy tales, the long-awaited day arrives. These beautiful newlyweds started getting ready in two suites of the luxurious Four Seasons in Florence. Serena beaming in her wedding dress, gets into a carriage pulled by two splendid white horses, which will lead her to say Yes! more important than her life, in the wonderful Basilica of Santa Maria Novella.
Here among the works of Masaccio and Giotto, a very elegant and equally excited Emanuele is waiting for her. In the emotion of friends and relatives, finally Serena and Emanuele become husband and wife.
After a touching ceremony, the couple went to Piazzale Michelangelo and to the Duomo of Florence for the couple shooting; to then rejoin the rest of the guests in the magnificent gardens of the Four Season, for an aperitif between music and shows. The reception was held inside, in a hall in perfect neo-Gothic style, where the elegant floral decorations made by Vincenzo Dascanio were the masters. The dinner took place accompanied by music and interspersed with wild dances.
The evening then ended in style with a sumptuous wedding cake in the gardens, framed by fireworks launched to the music, which enchanted all those present. And so, once upon a time and there are still two boys who, thanks to love, managed to make their dreams come true.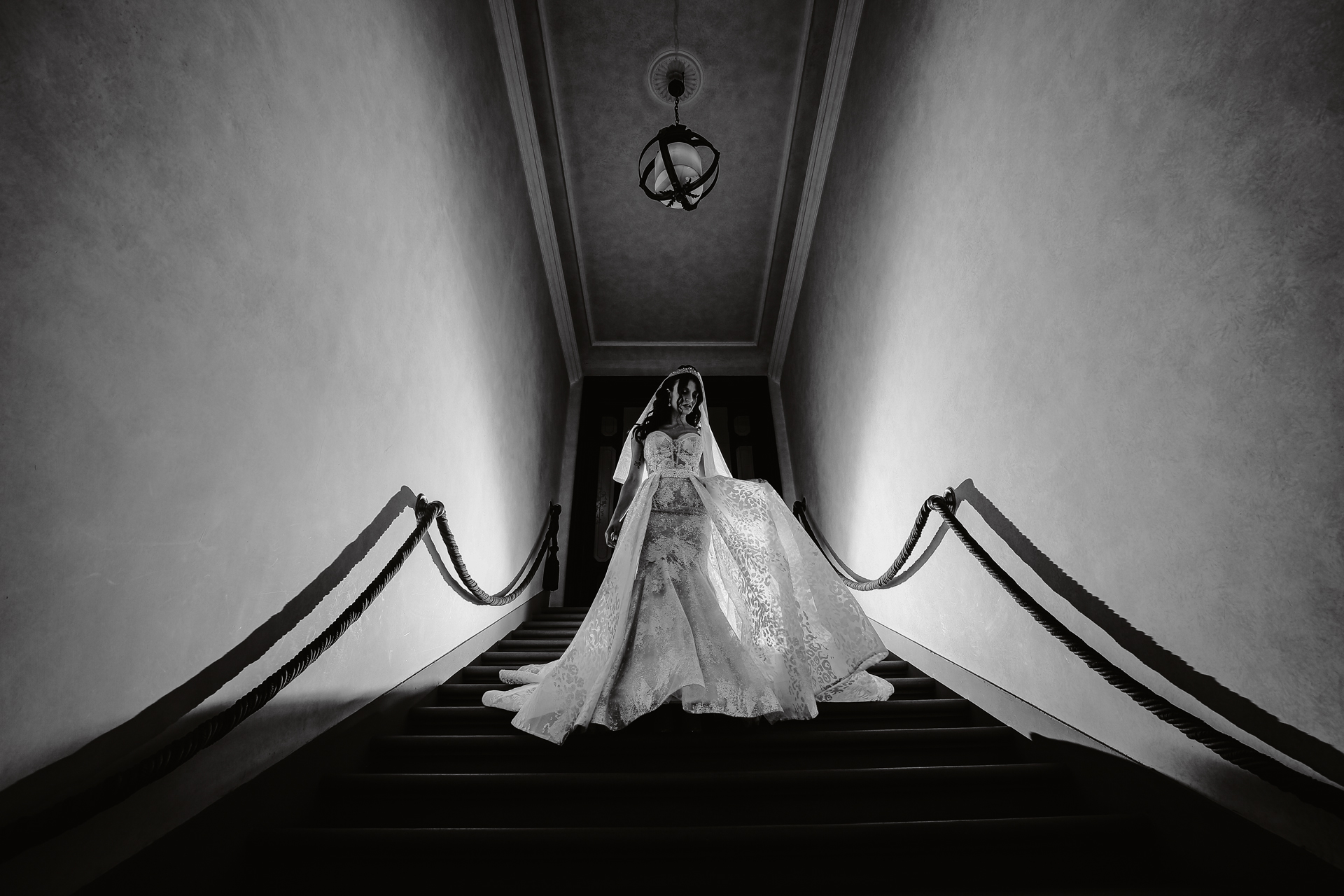 For anyone dreaming of having their wedding in close proximity to breathtaking historical monuments and culinary options that make their head turn, Italy is a dream destination.
It's not hard to find a spectacular location for a wedding in Italy, a country with abundant natural beauty and countless historic sites. Tuscany are the best destination wedding choices for couples coming from abroad and from Italy
Some of Italy's highest profile nuptials have taken place in Tuscany and there's a bounty of unique places to choose from with "more castle and towers like San Gimignano and Florence and historical venues where it is possible to organize events and weddings," says Emanuele Giachi of Tenuta Torciano estate. He has identified three main areas for weddings in Tuscany: Florence, the Chianti with the best wine territories and San Gimignano Medieval Towers City.
In Tuscany, as in many northern countries, popular months for weddings are May to September, says Emanuele, marketing coordinator for the Italian Wedding Company Fly to Wine , who also oversees weddings in the region. Prior to the pandemic she says international clients came from Europe, as well as the U.S, Canada, and Australia for destination weddings, with Florence and San Gimignano among the favored spots.
For your wedding, nothing but the best will do, and when it comes to hotels, the best usually means the top floor or—even better—a rooftop deck of a private tower of Castle . Imagine perfect weather, a warm breeze and walking down the aisle perched on a magical medieval city like Torre Chigi and his golden terrace between of San Gimignano towers . From seaside escapes to glittering city views, our Fly to Wine Travel Guide editors scoped out the best rooftops that will take your breath away.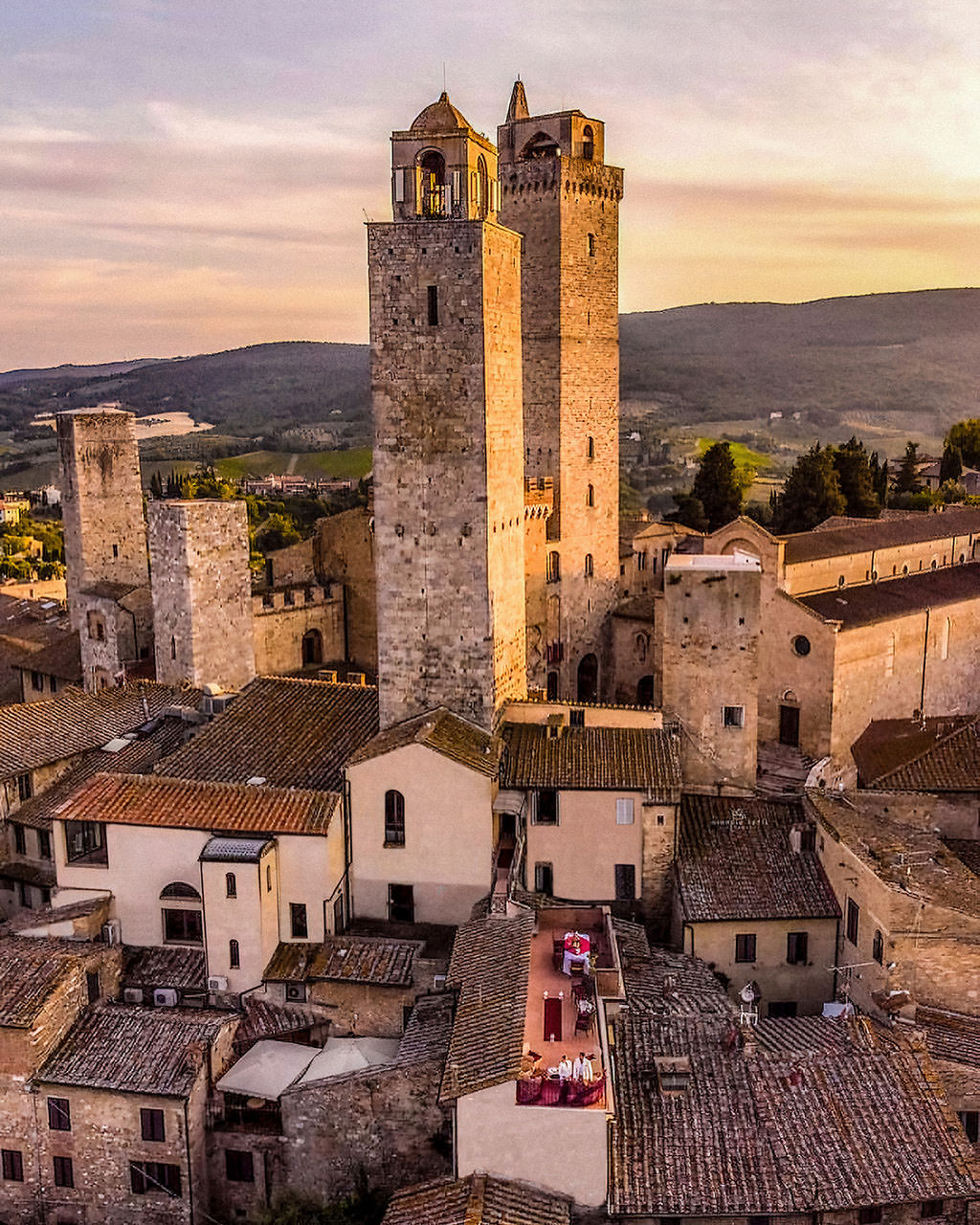 Makeup Artist & Hairstylist : Alessiastyleale e Amanolibera