Drawing on the need to spread the culture of Italian wine and by a constant creative reinvented taste, Tenuta Torciano  accompanies contemporary men and women in their search for quality and beauty. Discover our new white and red wines: contemporary amulets.
Wine is the success of men who know how to make their land a work of art, like the song of the earth towards the sky. To all those who share this philosophy of life, Tenuta Torciano dedicates exceptional wines: the perfect combination of effort, intelligence and passion of farmers for the vineyard and technical precision for wine and stylistic refinement.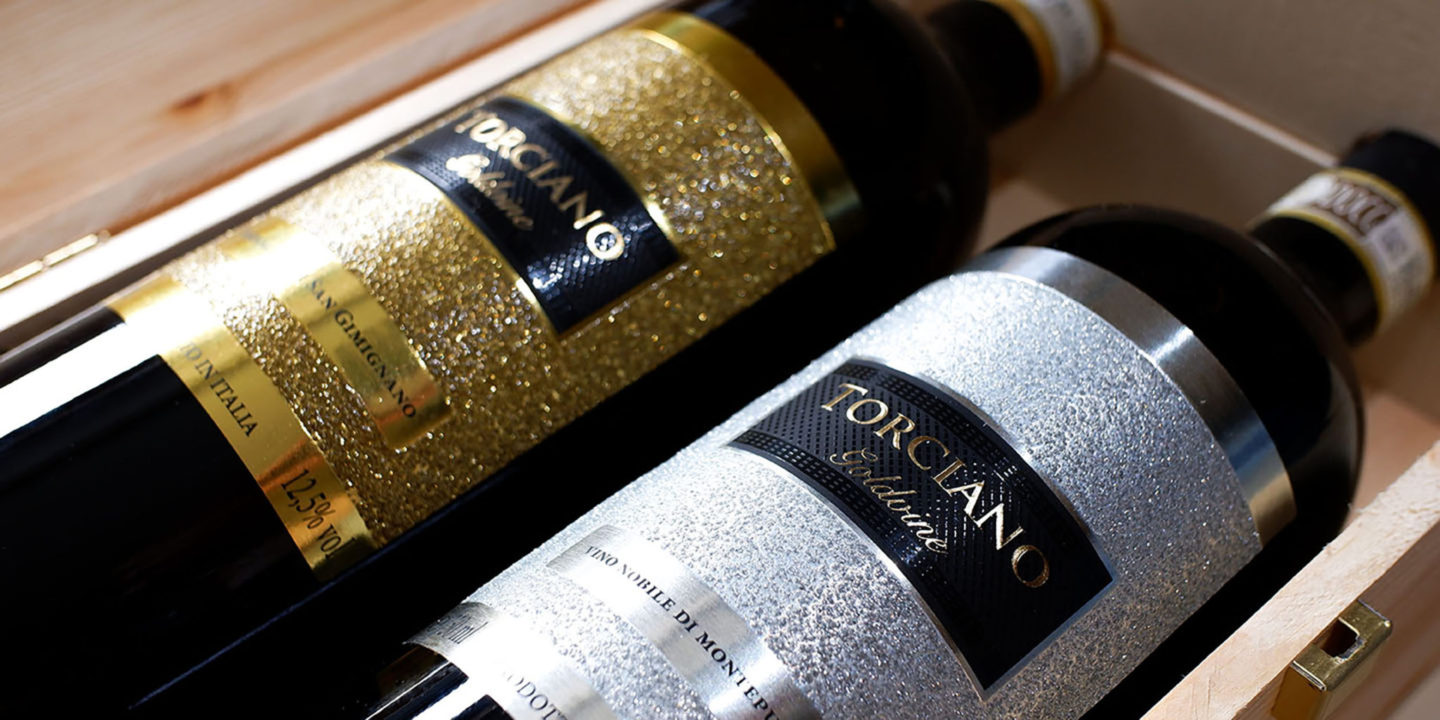 Goldvine Philosophy & Collection
"GOLDVINE" by Tenuta Torciano is a fresh and delicate wine, with an undeniably lovable character. Enclosed in a jewel-bottle, with a golden, silver and copper silhouette that recalls the typical Florentine architecture.
Goldvine is a collection of luxury bottles with a sparkling label; it includes the Chianti Classico, Vino Nobile di Montepulciano, Vernaccia di San Gimignano and Extra Virgin Olive Oil. The labels are inspired by the colors of the Florentine art, such as the bronze of the Donatello statue, the Silver of the hand sculpted altar of the Baptistery of the Duomo, the gold of the dome of the cathedral and the green of the marble.
History of Torciano Wines
With Luciana's collections like GIOIELLO, ALLIGATOR, GOLDVINE and now LE GEMME she has succeeded in transforming her creativity in reality. Today his wines are jewel bottles of extraordinary luster, which make every drop of taste and charm sparkle, freeing the spirit of a family in wine for 300 years.
If Tenuta Torciano is a old-wine Maison since 300 years, this is because it has forged a deeply quality of production together at sustainable vision of luxury, in the vine and in the space. Since a lot time, Tenuta Torciano has been using gold, silver and copper in the production of all its wine bottles packaging because these bottles are prestigeus jewels.
Torciano Shopping Goldvine
Buy now: https://www.torciano.com/en/shop/