Special thanks to our friend Jennifer for this great review, read more here!
Jennifer writes: " Last night while relaxing and wrapping up creating my wedding album from my amazing wedding in Tuscany this past October, I felt it was necessary to drink from the region where I celebrated the best day of my life.
Ireceived and opened a bottle of Chianti from the Torciano Winery. The Torciano estate was founded in 1720 by Bartolomeo Giacchi, whom was originally from Florence, but moved to San Gimiganano. The winery became a place for passerbys on the way to Rome to rest and drink where the Giacchi family could sell their wines and olive oil. There have been 13 generations of winemakers that manage the estate and vineyards so winemaking runs in the Giachi's blood.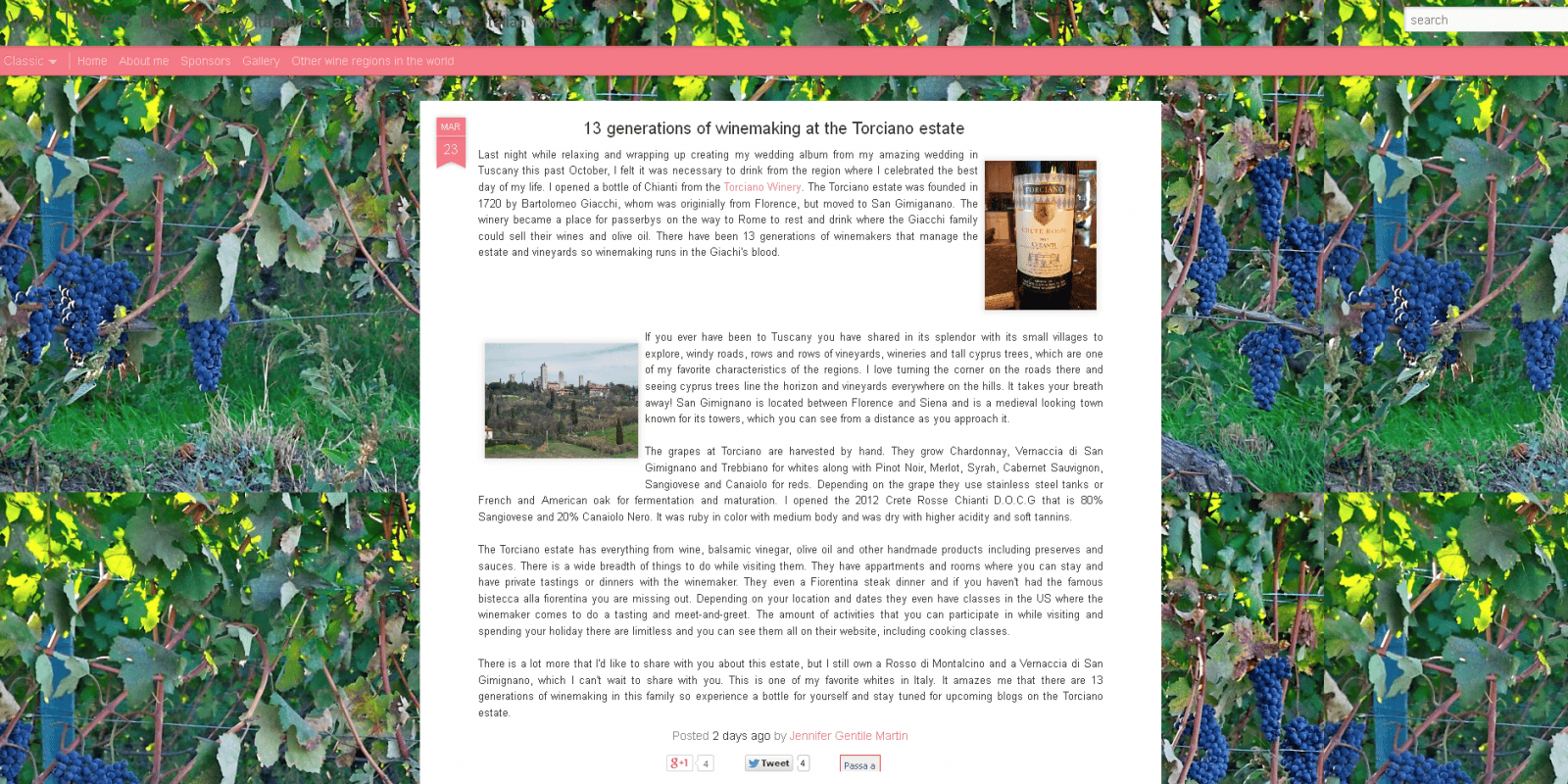 If you ever have been to Tuscany you have shared in its splendor with its small villages to explore, windy roads, rows and rows of vineyards, wineries and tall cypress trees, which are one of my favorite characteristics of the regions.
I love turning the corner on the roads there and seeing cypress trees line the horizon and vineyards everywhere on the hills. It takes your breath away! San Gimignano is located between Florence and Siena and is a medieval looking town known for its towers, which you can see from a distance as you approach it.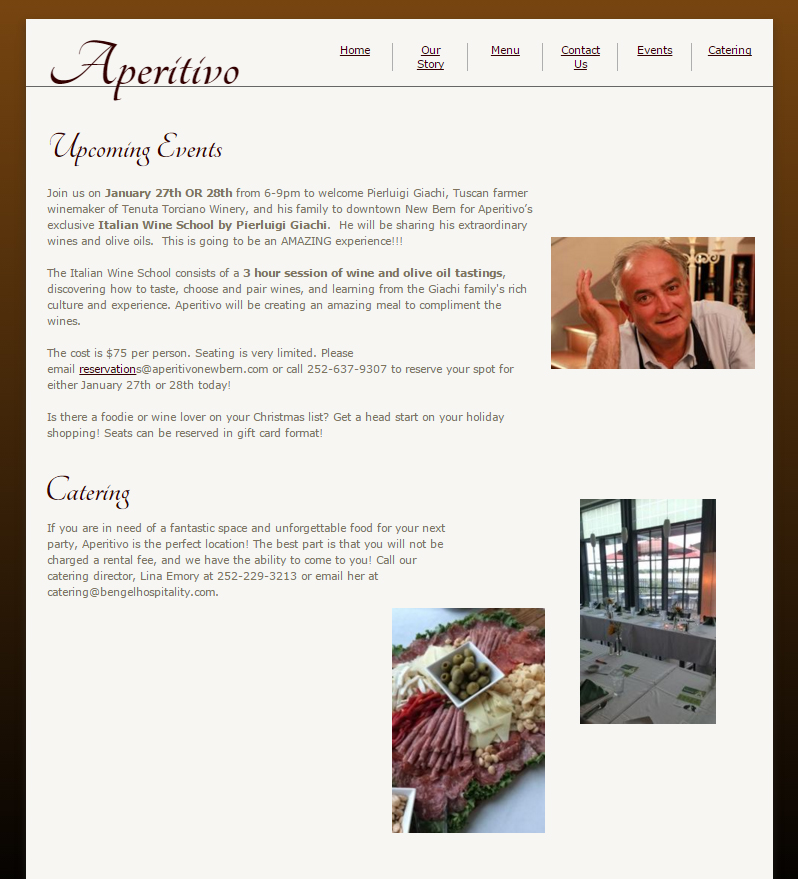 The grapes at Torciano are harvested by hand. They grow Chardonnay, Vernaccia di San Gimignano and Trebbiano for whites along with Pinot Noir, Merlot, Syrah, Cabernet Sauvignon, Sangiovese and Canaiolo for reds. Depending on the grape they use stainless steel tanks or French and American oak for fermentation and maturation. I opened the 2012 Crete Rosse Chianti D.O.C.G that is 80% Sangiovese and 20% Canaiolo Nero. It was ruby in color with medium body and was dry with higher acidity and soft tannins.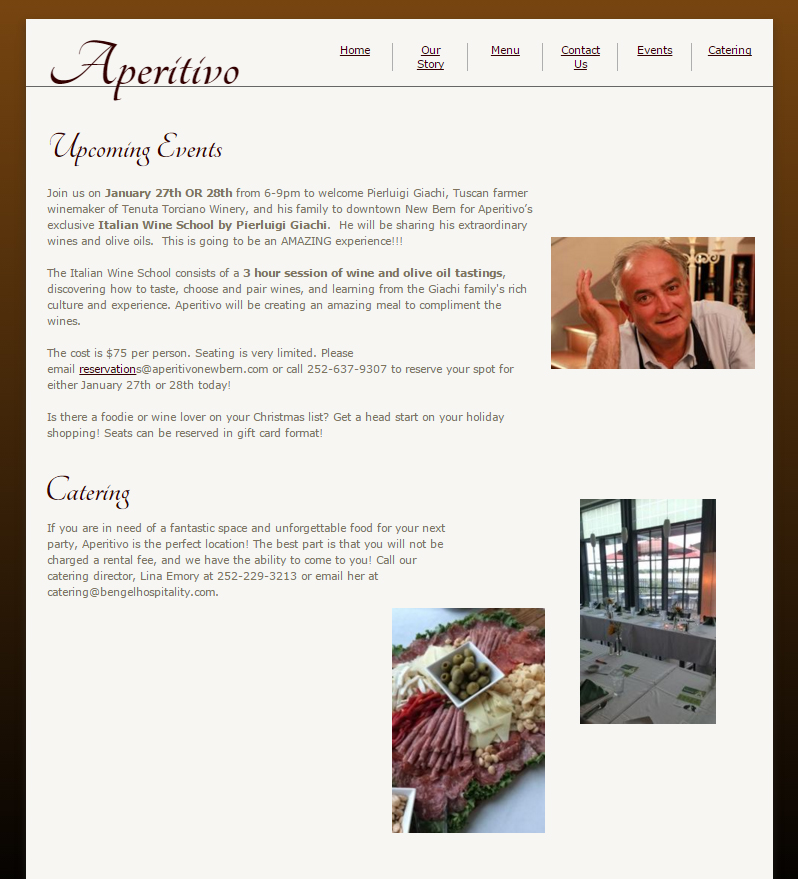 The Torciano estate has everything from wine, balsamic vinegar, olive oil and other handmade products including preserves and sauces. There is a wide breadth of things to do while visiting them. They have appartments and rooms where you can stay and have private tastings or dinners with the winemaker.
They even a Fiorentina steak dinner and if you haven't had the famous bistecca alla fiorentina you are missing out. Depending on your location and dates they even have classes in the US where the winemaker comes to do a tasting and meet-and-greet. The amount of activities that you can participate in while visiting and spending your holiday there are limitless and you can see them all on their website, including cooking classes.
This is one of my favorite whites in Italy. It amazes me that there are 13 generations of winemaking in this family so experience a bottle for yourself and stay tuned for upcoming blogs on the Torciano estate."