The period of carnival is the funniest moment of the year.
You can wear masks, drink good wine and eat yummy food.
During the period of carnival, a typical Tuscan sweet is Frittella di riso. It's fantastic paired with Dessert Wine!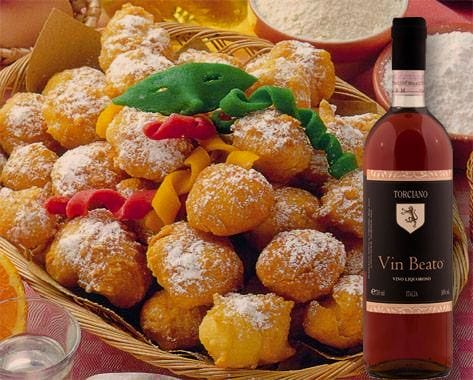 Celebrate with us Carnival, taking part in the Festival of Frittelle at the Torciano Winery.
You can experience five days of celebration with great food and fine wine in Tuscany.
Form 11:00 am until 4:00 pm you can do FREE wine tasting and food pairing of Frittelle and Dessert wine Vin Beato.
However, if you want to taste more flavors, different type of wines and excellent Tuscan food, you can stay here for DINNER or LUNCH.
You will do wine and oil tasting of 13 different wines and oils and eat fantastic Tuscan food as cheese, meat, lasagna with truffle extra virgin olive oil, ribollitta and at the end, you will also have Frittelle & Dessert Wine Vin Beato!